Welcome to the "Rituals" litter
Born: 2018-11-09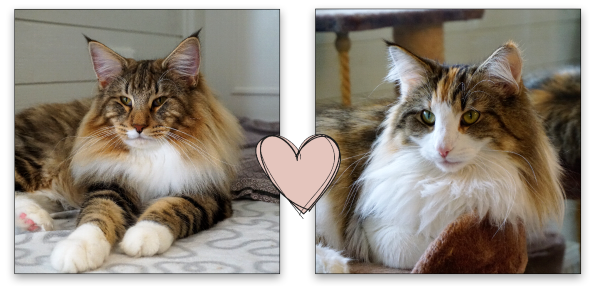 | | |
| --- | --- |
| CH DK*Sakeena's Genghis Khan, JW | CH SE*Entourage's La Gloria |
| NFO n 09 22 | NFO f 03 24 |
| | | | | |
| --- | --- | --- | --- | --- |
| Name | Sex | EMS | Birthweight | Status |
| SE*Entourage's Happy Buddha | Male | d 03 22 | 137 g | |
| SE*Entourage's Hammam | Male | d 03 22 | 131 g | |
| SE*Entourage's Samurai | Male | n 09 23/24 | 138 g | |
| SE*Entourage's Sakura | Female | n 09 23/24 | 120 g | |
| SE*Entourage's Namasté | Male | n 03 24 | 109 g | *RIP* Little angel! |
Kattungarna kommer att testas för PK-def.
Är du intresserad av en kattunge ur denna kombination
använd gärna formuläret nedanför!
Info PK-def hos www.skogkattslingan.com
-
Kittens will be pk-def tested.
If you are interested in a kitten in this combination.
Please use the from below to contact me.


/Mikaela
Tusen tack Caroline för att vi
fick låna hem Gillis ett par dagar!
Ser så mycket fram emot kattungarna
ur denna kombination.
KRAM!
- SE*Entourages kattungar är redo att flytta när de är minst 13-14 veckor gamla.

- När dom flyttar är de fullt vaccinerade, avmaskade och har ett hälsointyg som inte äldre än 7 dagar vid flytt.

- De är registrerade med FIFE / SVERAK stamtavla och har en mikrochip för identifiering.

- Vi säljer inte våra avelskattar utan eskort, så de måste hämtas i vårat hem eller Arlanda flygplats i Stockholm.

- Du är välkommen att fråga eller visa intresse för våra kattungar, men vi bestämmer ingenting för avelsintressenter innan kattungarna är 6 veckor gamla.

- En kattunge från SE*Entourage's kostar 8.500 SEK
- SE*Entourage's kittens will be ready to move when they are at least 13 - 14 weeks of age.
-When they move they are fully vaccinated, dewormed and have a health certificate not older than 7 days.
-They are registered with FIFE/SVERAK pedigree and have a microchip for identification.
- We do not ship our breeding kittens without escort, so they must be picked up from our cattery or ARN airport in Stockholm.
- You are welcome to ask or show your interest for our kittens, but we don't decide anything for breedinginterest before the kittens are 6 weeks old.
- Kittens from SE*Entourage's costs 8.500 SEK
(When exporting, added charge)
Mikaela Petersson
Mail: mickispetersson@gmail.com
Phone: +46 73 994 95 94

For sale = Kattungen letar efter en ny ägare. Om du är intresserad, kontakta mig - The kitten is searching for a owner. If you are interested please contact me.

Interest shown/On hold = Någon är intresserad av kattungen, men inget är bestämt. Om du är intresserad kontakta mig - Someone is interested in this kitten but nothing is decided. If you are interested please contact me.

Booked = Kattungen är förmodligen bokad, en bokningsavgift är betald - The kitten is probably sold, a booking fee is payed.

Sold = Kattungen är såld - The kitten is sold.

Intresserad av en kattunge från SE*Entourage's?
Sänd gärna ett e-mail som första kontakt.
Du kan använda formuläret nedan,
så kontakt jag dig så fort jag kan.
-
Interested in a kitten from SE*Entourage's?
Please send me an e-mail as the first contact.
You can also use the form below,
I will respond you as fast as I can.
/Mikaela