Casper became International Champion 4/11-17
* Congrats to his owner Petra Schultz cattery Caramon's *
2017-11-16
Five kittens was born 2017-11-15 after Gloria and Bruno. More info here

2017-11-03
SE*Entourage's cattery is now a certified SVERAK breeder!

2017-10-22
The website got a new "look"
I hope you like it!

Its 3,5 weeks left until Gloria and Bruno's kittens arrive. Shes already big.

2017-10-10
The cigarlitter vol.2 has got their own page. They will soon have their individually pages with pictures aswell. Click here!

2017-09-30
I think that Gloria are expecting kittens in the middle of november. More information here!

2017-09-02
New photos of our young lady. Take a look at Gloria's gallery. Here!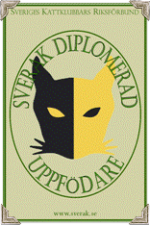 2016-08-21
SE*Entourage's La Gloria
Nr 1, Big, Bis 4-7 months and skogkattmästare 2016!
We are so proud!