We have kitten plans for this autumn 2022
More info will come!

If you are interested in a kitten, please use the form below to get in contact!
// Mikaela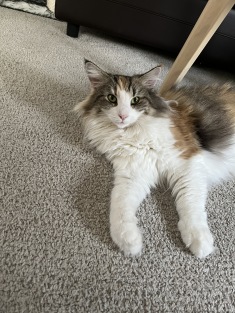 - SE*Entourages kattungar är redo att flytta när de är minst 13-14 veckor gamla.

- När dom flyttar är de fullt vaccinerade, avmaskade och har ett hälsointyg som inte äldre än 7 dagar vid flytt.

- De är registrerade med FIFE / SVERAK stamtavla och har en mikrochip för identifiering.

- Vi säljer inte våra avelskattar utan eskort, så de måste hämtas i vårat hem eller Arlanda flygplats i Stockholm.

- Du är välkommen att fråga eller visa intresse för våra kattungar, men vi bestämmer ingenting för avelsintressenter innan kattungarna är 5 veckor gamla.

- En kattunge från SE*Entourage's kostar 8.000 SEK
- SE*Entourage's kittens will be ready to move when they are at least 13 - 14 weeks of age.
-When they move they are fully vaccinated, dewormed and have a health certificate not older than 7 days.
-They are registered with FIFE/SVERAK pedigree and have a microchip for identification.
- We do not ship our breeding kittens without escort, so they must be picked up from our cattery or ARN airport in Stockholm.
- You are welcome to ask or show your interest for our kittens, but we don't decide anything for breedinginterest before the kittens are 5 weeks old.
- Kittens from SE*Entourage's costs 8.000 SEK
(When exporting, added charge)
Mikaela Petersson
Mail: mickispetersson@gmail.com
Phone: +46 73 994 95 94

Under länken nedan kan du läsa mer om dom genetiska sjukdomar (HCM, GSD-IV, PK-def) vi testar våra katter för. Läs mer här!